Hornet Infestations: The Dangers And How To Prevent Them In Conroe
August 31, 2023
When you see Hornets on your Conroe property, it can be an intimidating sight! No one wants to deal with a hornet infestation. If you see these stinging insects buzzing about, it's important to be informed about the dangers they present and how you can prevent them in the future.
This article covers everything you need to know about controlling hornets on your property and Chase Pest Control is here whenever you need pest control in Conroe. Our family-owned company is here to help protect you from problematic pests like hornets.
We've been protecting people, pests, and properties since 1997, earning us the reputation as the most trusted company in Conroe pest control. Reach out to our team to schedule your appointment after reading this article. We're looking forward to helping make your property hornet-free.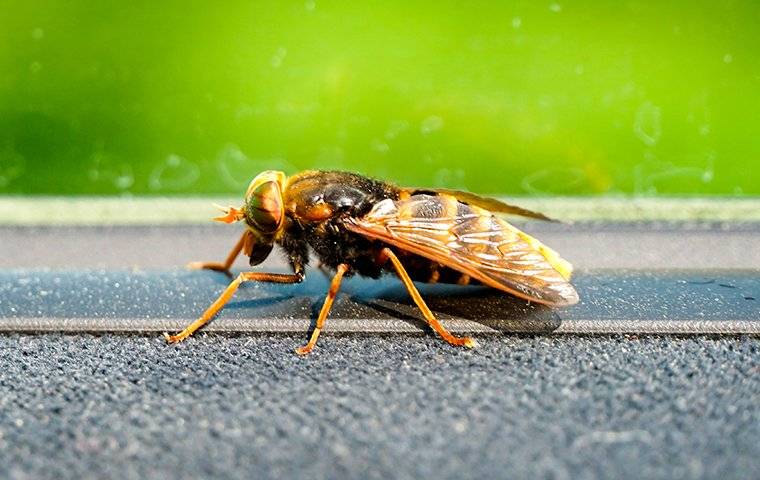 Hornet Identification: Key Markers To Help You Identify Hornets
The first step to any effective pest control service is identification. Let's look at the key markers you need to know to help you identify hornets in Conroe.
Many hornets are brown with yellow stripes on their abdomens. They range from about 3/4 to 1 1/2 inches in size. Their distinctively large and robust bodies set them apart from other stinging insects you might see on your property.
Unlike some other stinging insects, hornets are mostly active at night. They live in colonies and build nests made of cellulose that you should never disturb. If you see their nests on your property, make sure to call in our professionals to handle the matter so that you don't have to deal with getting stung. We're here to help with any stinging insect removal service you may need.
Stings And Health Risks: The Dangers Of Hornet Encounters
No one wants to get stung when they're simply spending time in their yard. Considering the potential health risks from hornet stings, that's more than understandable.
The most common reaction to a hornet sting it's dealing with mild symptoms that may last a few hours up to a day. These can include:
A raised, red area
A warm sensation
Pain near the sting site
Itching
Bleeding
Hives
While stings can make you uncomfortable and put you in pain, they can be even more serious for people allergic to stinging insect venom. Some people who get stung may need immediate medical attention to avoid further complications.
That's why it's imperative to call on Chase Pest Control for home pest control in Conroe as soon as you notice an infestation on your property. Leave the work to us, and we'll handle the problem before you get stung. Alleviate the worry by trusting us.
Creating a Hornet-Free Zone: Essential Steps For Prevention
Hornet prevention is essential to avoid dealing with these stinging insects on your Conroe property. Some of the best prevention steps you can take include:
Pick up any fruit that has fallen from trees on the premises.
Make sure garbage and any other food sources are inaccessible to these stinging insects.
Take care you don't overplant bright flowers, especially near sitting areas; they attract stinging insects of all kinds.
Clean up after barbecues and other outdoor gatherings, as hornets are meat eaters.
Control other pests on your property as they are prey to hornets.
Taking these steps can help prevent dealing with a hornet infestation in Conroe. However, if hornets decide to build a nest on your property despite your efforts, remember that Chase Pest Control is always here to help get rid of them.
Experienced Hornet Control: Restoring Peace With Professional Control
Get your peace of mind back by allowing our professionals to get rid of hornets for you. We're here to provide effective and efficient services to restore your space to the way it should be. Our family-owned company values your time and consistently provides the top-notch services you deserve.
With the highest licensing available in Texas, you know you can count on us! Our business growth is thanks to referrals from our satisfied customers, and we're here to earn your return business and referrals by providing truly exceptional services. Choose to rely on us; you won't be disappointed with the results.
Become part of our loyal customer network in this area by reaching out to our team of highly-trained technicians today. Call us to schedule your appointment and start your property's pest control process. We're looking forward to speaking with you soon and helping restore your property's peaceful conditions so you can get back to living your best life in Conroe.
Previous
Next