Complete Pest Management In The Woodlands, TX
Founded in 1974, The Woodlands, TX, is located just 28 miles north of downtown Houston. Living here is every outdoor lover's dream, seeing as we have 28,000 tree-filled acres of Mother Nature's finest. Plus, with The Woodlands Waterway and Lake Woodlands, there's always something fun to do. However, we're not the only ones who like spending time here. Unfortunately, pest activity is a year-round occurrence here in The Woodlands, and it can pose a variety of health and safety threats to home and business owners. If you want to protect yourself from infestations, you've come to the right place.
Chase Pest Control is proud to offer exceptional pest control services to properties throughout Montgomery and Harris counties and the surrounding areas. Since 1997, we've protected people, pets, and properties from the dangers of pest infestations. Our certified applicators provide consistent, top-notch services, and we work with you to develop the right approach to treat your pest infestation. Reach out to us today to get your free estimate and inspection.
Home Pest Control In The Woodlands, TX
If you want to secure year-round pest protection for your home in The Woodlands, it's imperative to consider your residential pest control needs. Here at Chase Pest Control, we've serviced over 1,500 local residences with complete coverage from household infestations. After conducting an in-depth inspection, we determine the appropriate treatments. Some of our services include:
Interior Treatments
Crack and crevice treatments around doors and accessible areas

Treatment to plumbing voids under the sink

Application to attic

Window sill treatments from the inside
Exterior Treatments
De-webbing and de-nesting of spider webs and wasps nests

Treatment around face board, windows, and doors

Power spray exterior foundation and eaves and landscaping area

8-10 inch granular barrier around the perimeter
From start to finish, you can trust that you're in the best hands possible when you go with Chase Pest Control. We value your time and your schedule, offering emergency and same-day services to give you the ongoing protection you and your loved ones deserve. Call today, and we'll explain our home treatment plans in The Woodlands area and how we can be of service.
How Do Bed Bugs Get Into The Woodlands Businesses?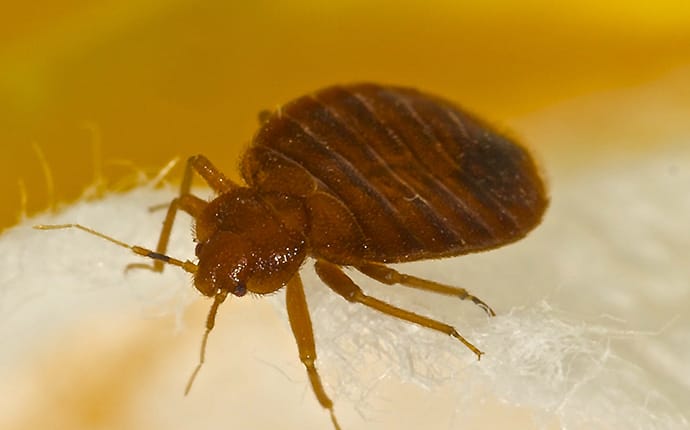 No business owner wants to deal with the nightmare of a bed bug infestation because these parasitic pests can wreak havoc around your facility and tarnish your reputation for good. Bed bugs can usually be found in beds, around furniture, in clutter, and other various harborage areas. These pests can be relentless about gaining entry into Conroe business, and it's important to understand how they get into your facility, to begin with.
There are a variety of attractants around your property to consider. The biggest thing to think about is their food source. They feed on human blood, so you will likely find bed bugs anywhere there is frequent human activity. Bed bugs travel from one place to another by hitchhiking via a person or object moving between rooms or locations. They can also get carried inside in packages, furniture, clothing, and on other people.

It's hard to control the spread of bed bugs, especially when you think about all the different ways they could be getting inside. If you want to secure dependable protection from bed bug activity in The Woodlands, Tx, reach out to Chase Pest Control. We are here to take care of all your commercial bed bug detection and extermination needs. Call us to get started; we look forward to helping you.
Four Ways To Keep Fire Ants Off Your Property In The Woodlands
Fire ants infest in large numbers, and if they've gotten onto your property in The Woodlands, it can become a real problem. Having multiple colonies of fire ants crawling around is upsetting, and it exposes you and everyone else on the premises to a variety of consequences. If you want to be proactive, here are four ways to keep fire ants off your property:
Eliminate access points by sealing all cracks and crevices around the exterior of the home.
Eliminate any standing water and any sources of excess moisture throughout your home.
Keep branches, trees, and bushes well-trimmed and directed away from the house.
Properly store food, and take out the trash regularly, keeping it outside in a sealed bin.
While these suggestions can provide a great place to start, your most reliable source of protection is ongoing services from pest experts. Contact the team at Chase Pest Control today to discuss your fire ant control and prevention needs. We're ready when you are.
Commercial Pest Control In The Woodlands, TX
It's a lot of work running a business here in The Woodlands, and things become totally unmanageable when pests enter the picture. The best way to guard your business against an infestation is to reach out to professionals. Our complete commercial pest solutions in The Woodlands area have serviced over 700 local businesses, some of which include offices, daycares, car dealerships, retail shops, machine shops, general businesses, dental facilities, warehouses, and marinas. No matter your commercial pest control needs, we're here to help. Contact us to learn more.
Request Your Free Inspection
Complete the form below to request your no obligation inspection with Chase Pest Control.