Professional Pest Management For Security, TX Properties
Located just miles north of Houston, the small community of Security is situated just along the bucolic Lawrence Creek. With conditions that are dry and warm all year round, pests are seemingly around every corner. They make their way onto properties either because of certain conditions that exist or to escape the outdoors. Either way, you can be left with a big mess.
At Chase Pest Control, we've been keeping Security properties free from pests for more than 20 years. As a family-owned, local business, we believe in treating every customer with the dignity and fairness that they deserve. To us, this means attention to detail, professionalism, fair prices, and honesty. If your property could benefit from comprehensive pest control, contact us today and receive your free, no-obligation estimate.
Home Pest Control In Security, TX
When pest infestations happen in your Security home, it can feel like your personal space has been invaded, and it has been. That's why for more than two decades, Chase Pest Control has been providing local homeowners with the highest level of home pest control around. It's our mission to take the stress out of pests so that you can get back to your life. When you contact Chase Pest Control, we always start with a free thorough inspection and from there, we treat places around your home that include attics, the exterior, plumbing voids, and more. Simply put, we leave no stone unturned so that we can ensure your home has a rock-solid barrier against seasonal invaders. From there, we'll work together to develop a service schedule that keeps you pest-free no matter the season. For more information on how Chase Pest Control can help your home, contact us today.
An Effective Rodent Control Guide For Security Property Owners
Rodents are one of the most difficult pests for property owners in Security to deal with. Not only do they chew their way inside your property, making way for other pests, but they also bring with them parasites like fleas and ticks, spread diseases like hantavirus, and destroy your walls. Here are a few tips for preventing rodents from taking over your property and avoiding these unfortunate side effects:
Seal up your home. Rodents are capable of squeezing through very small openings, but they are also known for chewing at openings to make them larger. Be sure to seal up cracks, holes, and other openings with silicone-based caulk or wire mesh.

Take care of your yard. Rats are excellent climbers and one of the most common ways that they get into Security properties is via overhanging branches or overgrown hedges. Always make sure that the greenery on your property is trimmed back to avoid this.

Practice proper food storage. Both mice and rats are scavengers on the hunt for your food, which is why it's so key to always store food in airtight containers, whether the food is in your pantry or in the fridge.

Keep things clean. When it comes to keeping your home free from rodents, ensuring a clean home is imperative. This means making sure that spills and crumbs are taken care of thoroughly, clutter has been cleared, and that the trash is always stored in a bin with a lid and removed regularly.

Contact the pros. It's never too early or too late to contact a professional pest exterminator to ensure that your home is free from rodents. Expert technicians can properly install exclusion as well as restore your home to its sanitary beginnings.
For more information on how Chase Pest Control can help keep your home free from rodents, contact us today.
The Dangers Cockroaches Bring To Your Security Home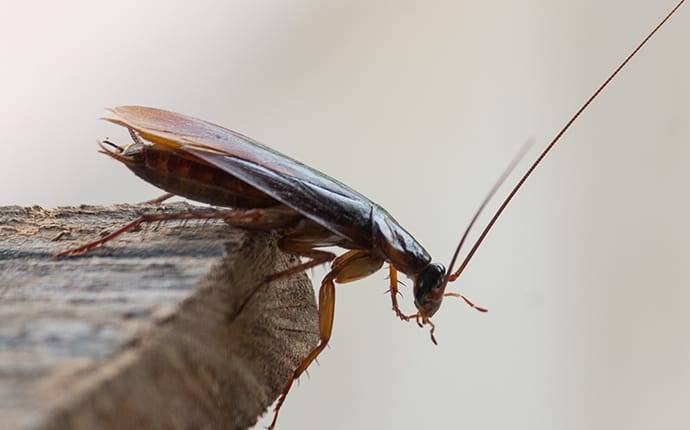 Cockroaches crawl inside your Security home and once they're in, they pose a handful of very serious threats to Security homeowners. Some of the dangers are:
Spread of disease. Through their saliva, droppings, and shed body parts, cockroaches are capable of spreading E. coli, salmonella, streptococcus, and dysentery.

Other health risks. Through their byproducts, cockroaches can also trigger asthma and allergies in individuals.

Difficulty in extermination. One of the things that makes cockroaches so dangerous is how difficult they are to get rid of. They hide out of sight of humans, don't require much to survive, and the German cockroach, which is the most commonly found species across the globe, is growing more and more immune to over-the-counter pesticides.
Don't let cockroaches take over your home! For more information on how you can keep your Security home roach-free, contact Chase Pest Control today.
Commercial Pest Control In Security, TX
Pest infestations are a business owner's worst nightmare, but they happen all the time. That's why at Chase Pest Control, we've been providing local businesses with top-notch pest control for more than 20 years. As a locally-owned family business, we're intimately familiar with your landscape and will always seek to provide you with the best service and treatments available. Our full-service, fully customized treatment plans will suit even the strictest of industry standards. In addition to general pest control, we also offer control for bed bugs, fire ants, and mosquitoes, so no matter what your needs are, we can meet them. Contact us today for more information on how we can help keep your business free from pests.
Request Your Free Inspection
Complete the form below to request your no obligation inspection with Chase Pest Control.