Total Pest Management In Conroe, TX
Established in 1904, the city of Conroe, TX, comes with a long history in the lumber and oil industries and has evolved into one of the fastest-growing cities in all of Texas. Bordered by Lake Conroe and Sam Houston National Forest, Conroe is every outdoor lover's dream, and living here is a real pleasure. Unfortunately, pests activity is a year-round threat, and there's nothing pleasurable about pest infestations. If you want to effectively guard your Conroe home or business against a pest infestation, the best thing you can do is reach out to a team of highly experienced pest professionals.
Welcome to Chase Pest Control, your local source for quality residential and commercial pest solutions. We are a family owned and operated company that has been servicing properties throughout Montgomery County and the surrounding areas since 1997. We work hard to provide our valued customers with the absolute best pest protection in the area. No matter what kind of pest pressures you're facing, we're ready to help. Get in touch with us to get your complimentary estimate.
Home Pest Control In Conroe, TX
The team at Chase Pest Control has serviced over 1,500 homes with trusted residential pest control services. From our initial inspection through every follow-up visit, our certified technicians help make the entire process as seamless as possible. Our complete home pest control in Conroe, Tx process includes:
Inspection & Initial Service Visit
Consultation with client to discuss problem areas and concerns

Inspection of entryways, windows, plumbing voids, attics, exterior openings, and access points

Plan write up and set customer goals before moving forward
Interior Treatments
Crack and crevice treatments around doors and accessible areas

Treatment to plumbing voids under the sink

Application to attic

Window sill treatments from the inside
Exterior Treatments
De-webbing and de-nesting of spider webs and wasps nests

Treatment around face board, windows, and doors

Power spray exterior foundation and eaves and landscaping area

8-10 inch granular barrier around the perimeter
Once we finish the treatment, we return for ongoing services to keep your home totally pest-free moving forward. We will come back for any necessary re-treatments, and we'll perform bi-monthly exterior services according to your needs. Reach out today to schedule your free home inspection.
How To Control Termites In Your Home In Conroe, TX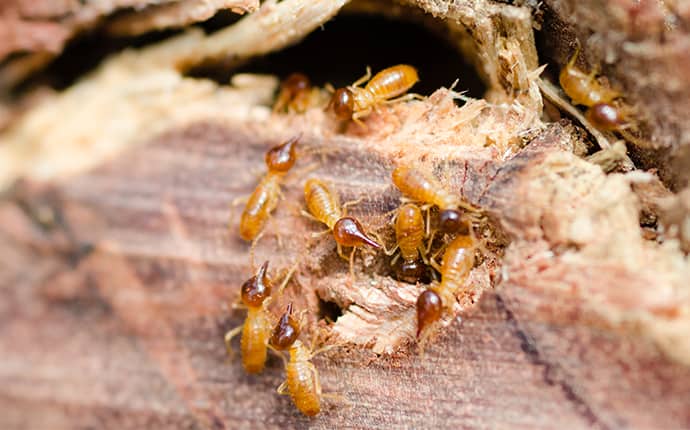 Termites are highly destructive intruders that burrow deep into damaged and rotting wood. They build nests and grow their colonies until there is a large-scale infestation, which will destroy your home's structural integrity and put you and your loved ones in harm's way. Here are some preventative measures to consider when it comes to controlling termites around your home:
Eliminate excess moisture around the entire property.

Examine all wood before bringing it onto your property.

Keep wood away from the perimeter of your house.

Remove any rotting or moisture-damaged wood.

Use loose mortar or weatherstripping around the windows and doors.
While these tips can help, your best bet is to reach out to a team of professionals. Here at Chase Pest Control, we provide trusted termite control and prevention services in Conroe, Tx that guard local homes against the detriments of termite damage. Call us today for a free estimate, and we'll get started.
What Conroe Businesses Need To Know About Getting Rid Of Carpenter Ants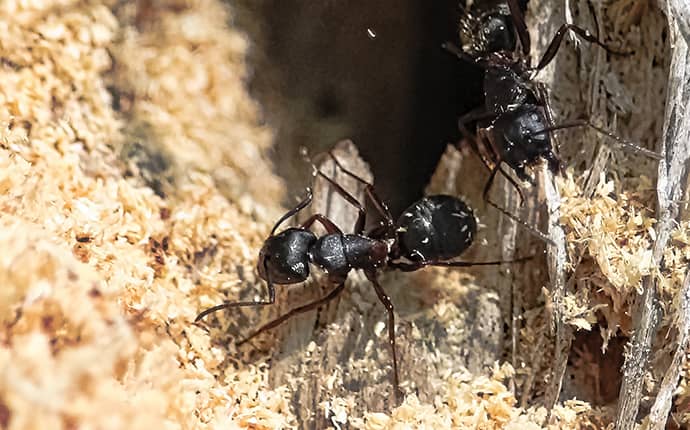 As a local business owner, it's important to know what you're up against, and carpenter ants are threatening intruders that you should be familiar with. Carpenter ants are harmful pests that destroy wet and decaying wood. They mostly live in nests that they create outside the facility but access remote entry points that allow them to obtain food, water, and shelter. If you want to get rid of carpenter ants around your business, here are some things you can do:
Eliminate access points by sealing all cracks and crevices around the exterior of the building.

Keep branches, trees, and bushes well-trimmed and directed away from the building.

Maintain functional downspouts and gutters to keep water flowing away from the foundation.

Take out garbage regularly and keep it in a dumpster or trash receptacle with a tight lid.

Use a dehumidifier in damper areas of your building.
If you're looking for year-round, guaranteed protection from carpenter ants, your best bet is to call in the team at Chase Pest Control. We offer complete commercial carpenter ant protection in Conroe that gives you continued coverage from infestations. Get in touch with us to set up your initial inspection as soon as possible.
Commercial Pest Control In Conroe, TX
The best way to handle a commercial pest infestation is to call in the pros. Chase Pest Control provides dependable commercial pest solutions in Conroe, Tx to over 700 local businesses, including offices, daycares, car dealerships, retail shops, machine shops, general businesses, dental facilities, warehouses, and marinas. Whatever kind of business you run, pests are a threat, and we're here to help.
We deal with a variety of common area pests, such as carpenter ants, termites, mosquitoes, rodents, spiders, cockroaches, fleas, ticks, bed bugs, stinging insects, and fire ants. Our licensed and trained pest technicians utilize comprehensive IPM (Integrated Pest Management) solutions to tackle the root of the infestation and rid your facility of all pest activity. Our team will return for follow-up services on a bi-monthly, quarterly, or monthly basis, providing your business with re-treatments as needed. Get in touch today to learn more.
Request Your Free Inspection
Complete the form below to request your no obligation inspection with Chase Pest Control.